The Art of Mehndi
Introduction and History
     The history of henna and mehndi is very old and, ultimately, fairly well known. It makes it easy to go back several thousand years. Less greedy, or the more adventurous, evoke the era of the ancient city of Catal Huyuk, there are some 9000 years, in what would much later Turkey. Certain representations relating to the worship of a goddess of fertility tend to think that we used henna in this religious context.
Testimony or other evidence are numerous: there are 5000 years of Egyptian henna stained nails and hair of the mummies, we found traces that of Ramses II the legend of Baal and Anath, written in Syria around 2100 BC JC. reveals the female use of henna on the hands, in the nuptial rites; hands statuettes Minoan or Mycenaean female deities (to 1 700/900 BC. JC). wear marks typical henna patterns the Carthaginians brought the practice of drawing henna body up to North Africa and the Iberian Peninsula … Romans, Jews, Christians and Muslims from Arabia and elsewhere more or less commonly practiced this art.
The introduction in India seems to date back to the fifth s., As might prove discoveries in the caves of Ajanta. In these times, men and women, rich and poor, humans, gods and demons were represented with henna body decorations.But it is, in XII century., The arrival of the Mughals, Muslims, which marks the beginning of a tradition and a culture of mehndi in the Sub-Continent. Rajput rulers of Udaipur (Mewar or at Rajasthan) used the henna application on hands and feet, to name a famous reference. Preparations, application techniques, patterns, then became increasingly sophisticated, and usage patterns increasingly embedded in everyone's life, according to aesthetic principles, religious, cultural or medicinal. It should be noted that a very typical and traditional occasion the mehndi is use all wedding ceremonies: here you can reach the most ancient practices, mentioned above.
The reasons for Indian mehndi are varied and interlacing geometric figures among Muslims, motifs, often inspired by nature (birds, mango leaves and flowers …) among Hindus, while Tamils ​​resorted to circular designs in the palm and flat colors wrapping fingers and around the feet.
If one wants to practice henna temporary tattoo, you can either buy ready made ​​kits or make a more traditional way, preparing the dough needed and by making the cone used for the application.
Preparation of the dough: 
The basic ingredient is the henna powder to be chosen very thin, green and fragrant. We give here a recipe and variations for the preparation of the dough. Different regions of the world, family traditions or individuals, these variations can be broken down further to infinity.
Material: a bowl, a spoon, a whisk and possibly a very fine sieve (not necessary if the powder is quality), a cone of application (see lower manufacturing).
Ingredients: one tablespoon of henna powder, a cup of tea, coffee or hot water (possibly mixed with lemon juice), half a teaspoon of sugar (optional), essential oil of clove (or camphor, lavender, eucalyptus …).
Method: 1) Pour the tablespoon of henna powder into the bowl.
2) Add (optionally) sugar.
3) Start by adding a tablespoon of lukewarm tea mixed with lemon juice. This liquid should be very fluid without solids. Mix thoroughly until a thick paste and homogeneous, always turning in the same direction.
4) Slowly add tea to achieve a paste of the consistency of toothpaste.
5) Let stand at least five hours. (NB: Some recommend placing the dough in the refrigerator to discourage others …).
Warning: preparing the dough, handling a coloring substance is highly … Attention to spots, especially on the skin. Consider, for example to use rubber gloves.
Manufacture of cone:
To apply this paste on the skin (see diagram below), use a cone that you can make yourself. Here the fabrication scheme.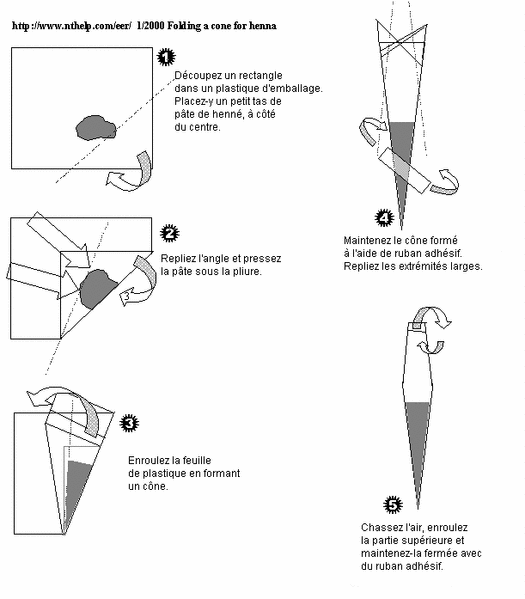 To finish:
The henna tattoo is temporary, of course, but it will remain visible up to three weeks if you vez took care to observe the following principles:
1) Allow the paste pattern applied to the skin for at least three hours. The ideal is to keep the dough overnight, protected by a thin tissue (gaze. ..) traditionally moistened with lemon juice slightly sweet.
2) Remove the paste by scraping and ending with a cotton soaked in oil (preferably olive oil).
3) Moisten the mehndi twice daily by applying a little oil (olive …).
If instead you want to disappear more quickly the pattern, use a good soap, and rub hard! The operation must be repeated many times. The use of chlorinated products could be a solution, but for security reasons, it is obviously better to avoid it.
Henna is a plant first, identified by Latin name Lawsonia inermis, which grows in hot, dry climates, mainly from Morocco to India, through Egypt, Syria, Iran or Pakistan. But culture is also practiced on a small scale, in countries and regions such as China, Indonesia, the Caribbean … The shrub in the most favorable conditions, measuring up to three meters high, and it is his foil, dried and powdered, is used to practice the art of body painting. Flower, white, pink or yellow depending on the variety is small and fragrant, and its distillate is used in the cosmetic industry.
Many names are: henna, hina, al-henna, mehndi word (sometimes mendhi, mehendi or mehandi) is reserved for the powder to the dough and the practice of temporary tattoo … Tamils, meanwhile, speak of the shrub marudhani, or marudhôndri aïvanam, but they probably practice unless peoples of North Indian henna body painting, probably for cultural reasons and practical reasons due to the color skin.
Google